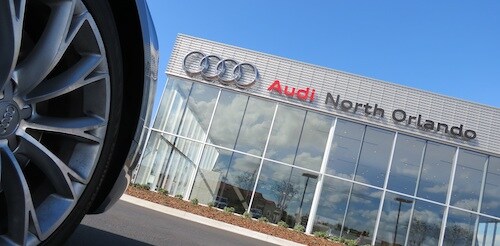 Our Dealership
Discover the varied inventory of new Audi vehicles and surfeit of pre-owned cars, SUVs, trucks and wagons at our Audi dealership in Sanford, FL! The customer is always first in our minds at our Audi dealership near Orlando, FL. We have a dedicated and skilled sales team that can't wait to get started and help you meet the car of your dreams. They'll show you different vehicle models, explain expenses and Audi finance options and answer all your questions to your full satisfaction.

Our History
Our motto is "Never forget your customer, never let your customer forget you!" That comes straight from the mind and heart of Bill himself, formally known as William E. Holler, the first Holler man to go into the automotive industry. Long before the era of motivational speakers began, Bill Holler was a force of nature, described by Automotive News as "a spellbinder, a table-pounder, an evangelist." Bill was sure to point out that the commander who leads the troops in battle, the volunteer raising funds for charity and the homeowner who gets the neighborhood involved in a community project are, in a sense, all the same thing: salesmen!
But the key to Bill's success wasn't simply his personality. By understanding customer needs and desires, Bill developed innovative programs that inspired dealers to establish new sales records. In 1929, General Motors Chairman C.S. Mott hired Bill to be vice president of General Motors and general sales manager of Chevrolet, a role he served in until his retirement in 1945. Bill also founded the General Motors Dealers' Son School, established to prepare children of dealers as they inherited the family franchise.
Roger Holler III, Christopher Holler and Jill Holler Rogers are the vice presidents of the Holler Automotive Group. They also just happen to be the great-grandchildren of the legendary Bill Holler and are all graduates of the General Motors Dealers' Son School. Together, they work hard to maintain the same high sales standards first elevated by their grandfather, Bill, so many years ago, and to deliver the ultimate car-shopping experience to you!