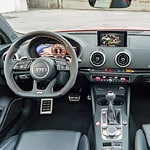 For a luxury sedan that comes fully loaded with all the high-performance amenities that you prefer, you won't go wrong with an Audi RS 3. The team at Audi North Orlando is standing by to show you around this popular vehicle's many features, so don't hesitate to visit our location here in Sanford, FL today to learn more.
Whether you like a comfortable ride, seamless handling, ample horsepower, or all of the above, you'll love what the RS 3 has to offer. The five-cylinder motor and seven-speed transmission add up to furnish more than 390 horsepower and more than 350 foot-pounds of torque.
The customizable exhaust system can be adjusted to create just the sound that you want from your Audi RS 3. The flawless handling and superior ride are delivered courtesy of the Quattro all-wheel-drive system and magnetic-based shock absorbers.