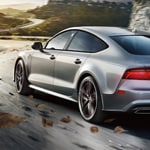 A triumphant display of technological mastery is flaunted by the sophisticated Audi A7. This sizable luxury car can be credited for changing the way that Sanford, FL sees its daily commute. Thanks to a host of beneficial installations, your perspective on travel can suddenly become infused with futurism.
To change your entire driving philosophy, this charismatic ride boasts a multitude of helpful services via Audi Connect. CARE enables effortless SOS calls alongside standard requests for roadside assistance. Additionally, PRIME grants access to major third-party offerings including Google Earth and Amazon Alexa. Meanwhile, PLUS is outfitted with a powerful WiFi hotspot alongside comprehensive online music catalogs. With the right subscription, this cyber amenity can be life-changing.
For a radically transformed existence, start by inquiring Audi North Orlando about test-driving the Audi A7. While you're there, be sure to express interest in the myAudi app for a full rundown of this ride's impressive digital perks including keyless access and the mobile car finder.