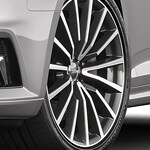 Audi continues to be on the cutting edge of what's innovative and trending in design ingenuity. Their sophisticated technological enhancements in its vehicles continue to make it among the most popular in its class.
Your eyes can't see everything around you but sensors on your A5 can. There are sonar and radar sensors, and both front and rear cameras to surveil the environment around your car. It keeps you informed of any probable disturbances. An important feature for the inattentive eye is Traffic sign recognition. In the event your eyes glaze over a traffic sign, a front-mounted camera can call your attention to it by displaying it on your Audi's virtual cockpit screen, also known as a Head-up display.
You can learn all about the Audi A5 Coupe at Audi North Orlando and see how enhanced features have helped keep you safe. If you live in Sanford, FL or Orlando, come and check out the Audi lineup and see which one is right for you. Before you visit, check out the website and see what specials are offered, making an Audi even more of a sweet buying experience.