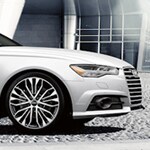 Stunning good looks, phenomenal interior comfort, and electrifying features can all be found in the Audi A6. This full-size sedan has a sleek and sexy facade that appears to be cut from fine glass. There are three available trims as well as heated front seats.
The Audi A6 offers Four-Zone Automatic Climate Control, ventilated front seats, and multi-color ambient lighting. This lighting offers just about every hue of the rainbow, and the colors will give off a soft glow. The driver can create a personalized setting to match his/her driving style. There are also 400 settings that will match to driver profiles. The sedan's driver display looks stunning as it hosts a plethora of information and images. Consumers will also love the HD-Matrix design headlamps, which displays an illuminating sequence of lights.
Get a first-hand tour of the Audi A6. Our knowledgeable representatives will take you out for a free test drive if need be.